Provisional Driving License
Getting a Provisional Driving Licence is the first step to learning to drive. You can apply for the Provisional Licence online if you have a valid UK Passport.
Alex Teseira
·
May 31, 2017
How to applying for a UK provisional Driving license
Before you can start learning to drive, you must have a provisional driving licence, Ensure that you meet the eligibility criteria to apply for a car provisional licence. You must be at least 17 years old. apply for your first provisional driving license this can be done 3 months before your 17th birthday.
You should be able to read a number plate from 20 metres away and provide an identity document unless you have a valid UK biometric passport
Apply for provisional driving licence online
You can apply online at DirectGov website, you will need to provide certain documents as proof of identity. These typically include your valid UK passport, biometric residence permit, or other identity documents.
The DVLA website will provide you with a list of acceptable documents.
Having the following to hand could save you time: a valid debit or credit card to pay £34, have your National Insurance number if known, your UK passport no more than five years old and you won't have to provide a photo and details of previous addresses.
Online is quicker and cheaper than with a postal application, your driving licence should arrive within one week if you apply online on the official website of the Driver and Vehicle Licensing Agency (DVLA) www.gov.uk/apply-first-provisional-driving-licence.
On the DVLA website, navigate to the "Driving and transport" section and click on the "Driving licenses" option. Look for the link to apply for your first provisional driving license. This will take you to the online application page.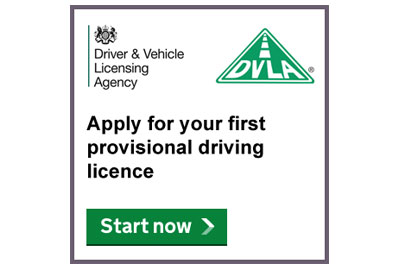 Apply for provisional licence by post
Complete a D1 Application for a Provisional Driving Licence which can be obtained from any large Post Office. Alternatively, go online to the DVLA form ordering service and have the D1 Form sent in the post. Complete and return your application to DVLA, you will need to include a colour passport-style photograph photo for your photo card, A postal application for the driving licence will be £43. The licence should arrive within 3 weeks.
Send your completed application and payment to:
DVLA, Swansea, SA99 1AD - if all your documents are from the UK
DVLA, Swansea, SA99 1AF - if any of your documents are from outside the UK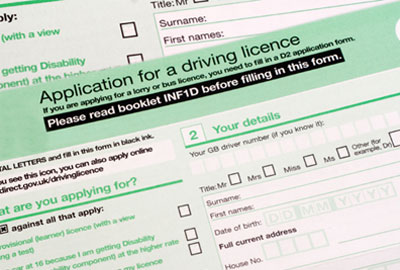 Watch video how to apply for a provisional driving licence
Advice on how to apply for your first provisional driving licence using the official government website
Try our
best value for money

trial driving lesson, book online or give us a call

For Driving Lessons and Intensive Courses in East London, Tower Hamlets, Newham, Redbridge, Barking and Dagenham
ONE TO ONE DRIVING TUITION