DRIVING LESSON OFFERS
FIRST 10 DRIVING LESSONS FOR

ONLY £190
That's a saving of £30 or £19 hr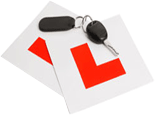 GET FREE DRIVING LESSONS!
You can get FREE lessons by taking advantage
of our 'Recommend a Friend' scheme,
Simply recommend friends to DriveThru L and get FREE lessons!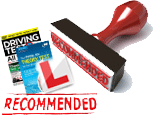 Driving Instructor Training
Become a Driving Instructor
To qualify as a Driving Instructor, known as an Approved Driving Instructor or ADI, you will have to pass 3 tests set by the Driving Standards Agency (DSA)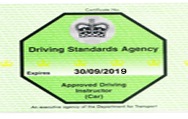 The driving test is straightforward and has been designed to see if you:
can drive safely in different road and traffic conditions
know The Highway Code and can show this through your driving
After meeting your driving test examiner, the next two stages are:
an eyesight check – if you fail this, your test will not continue
your examiner will ask you two questions about carrying out vehicle safety checks
You'll be asked one 'show me' and one 'tell me' question. One or both questions answered incorrectly will result in one driving fault being recorded.
You can find source material in the Driving Standards Agency (DSA) publication 'The official guide to driving – the essential skills' and 'The official DSA guide learning to drive'. Advice and information on how to carry out vehicle safety checks can also be found in the manufacturer's handbook.
Driving ability
The driving part of your test will last about 40 minutes. You'll be examined on your general driving and ability to reverse your vehicle safely. One exercise will be chosen from:
reversing around a corner
turning in the road
reverse parking
You may also be asked to carry out an emergency stop exercise.
Throughout the test you should drive in the way your instructor has taught you. If you make a mistake, don't worry about it as it might be a less serious driving fault and may not affect your result. However, if at any time your examiner considers your driving to be a danger to other road users your test will be stopped.
Your practical driving test will include approximately ten minutes of independent driving. This is designed to assess your ability to drive safely while making decisions independently.
The Driving Standards Agency (DSA) encourages you to take someone with you on your driving test.


They will usually be the person who has taught you how to drive:
could be a relative or friend
must be over 16 years old
cannot take any part in the test
will be able to see how you perform during the test
To get the most benefit, ask your instructor to go with you. They can then give you advice on how to improve your driving, whether you pass or fail.
The Driving examiner's supervisor
The examiner's supervisor may come along as well. You shouldn't worry about this as they will be watching the examiner's performance, not yours. 
The supervisor will not have a say in how you are tested or in your result. If you don't allow the examiner's supervisor to go with you:

you might lose your test fee
your test might not go ahead
Driving test standards
All examiners are trained to carry out the test to the same standard, they do not have pass or fail quotas. So as long as you demonstrate the standard required you will pass your driving test. Test routes are designed to be as uniform as possible and will include a range of typical road and traffic conditions.

Driving tests in bad weather
Watch a video about driving tests in bad weather from DSA
DSA does not conduct tests in bad light or in adverse weather conditions for the safety of the candidate and the examiner.
DSA will arrange another appointment at no further cost. However, DSA does not pay any other expenses. You should call the telephone number on your appointment email or letter to check whether your test will go ahead. If your test is early in the morning, call as soon as you can on the day. If you call the day before, the test centre won't be able to tell you if your test will go ahead. If your test is in the afternoon, call the test centre later in the morning. The test centre is more likely to know if the roads will be suitable for your test.
Driving tests may be affected by bad weather
Vehicle problems
If you or your vehicle prevents your driving test from being completed, you'll have to take another test at your own cost.
More useful links